Henna Body Art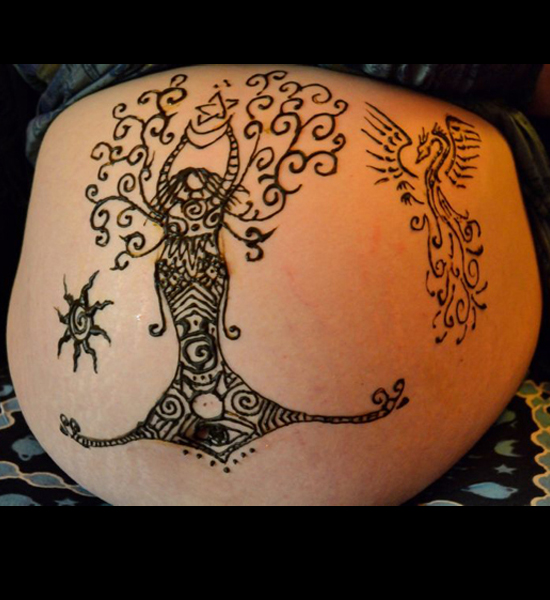 Henna is an elaborate form of Body Art that has been in use for over 5,000 years. It is a distinctive art form created on the skin using a paste made from the dried leaves of the henna plant and lemon juice.
I apply the paste by what looks like a cake decorator cone in intricate, exotic, and even personalized patterns on various parts of the body.
It usually lasts 1 to 4 weeks, before it fades (depending on placement and care taken). Its application is relaxing and provides a cooling and calming experience.
The dye leaves a reddish-brown stain upon the skin that darkens over the first 24 to 48 hours. The longer henna remains on the skin, the darker the design becomes and the less the design is exposed to water, soap and rubbing, the longer it will last.
Allergic reactions to pure henna are very rare, however, to be safe, children must be at least age 9 before getting henna. (some people say 6 years old, but I like being cautious)
If you are anemic or have G-6-PD deficiency (you should know if you do), NEVER get henna as it can lead to a hemolytic episode.
There are several things marketed as "Black Henna". Some are very dangerous. When para-phenylenediamine (PPD) is used to make "black henna", it can cause blistering, open sores, scarring, and lifelong health problems.
Don't risk it-NEVER get "Black Henna"
I only use pure natural henna which I combine with all natural ingredients like lemon juice, sugar and essential oils.
Henna has been used for:
Personal Beautification

Weddings

Anniversaries

Bridal Showers/Bachelorette Parties

Grooms Night/Bachelor Parties

Baby Showers

Prom/Graduation

Birthday Parties (not under age 9)

Multi-cultural Festivals

Religious Ceremonies

And now, Julia combines her talent at this artform with her skill as a massage therapist creating a brand new adjunct modality.

Being Hennaed makes you slow down, relax and just be. Henna is great for men, women and children over age 9.
Henna can be used to help bring wellness into your everyday mind, as the design can complement any healing practice you employ and act as a reminder for posture, emotional intentions or focus during meditation.
When used with bodywork or massage, it becomes BodyArt therapy. The patterns used are not focused sorely on how they look on the body but rather how the pattern can help the person to achieve their body work goals. Julia has spent numerous hours creating specific patterns for body work that include patterns for releasing muscle tension, stress, grief, structural soundness and many more.
You will be the only one who knows what the design means and by looking at it or keeping it in mind during focused work and/or meditation, you will help to send out your intentions to manifest your bodywork goals.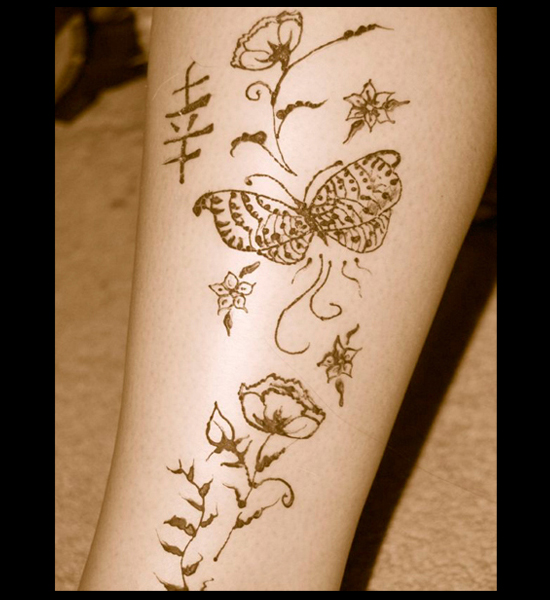 After Care



Once the paste is applied, the design(s) are wrapped in tissue, plastic wrap and the sock you bring is placed over it all. Allow this wrapping to remain for at least 8 hours, better yet is overnight.
When you need to take the wrapping off, carefully remove the sock, plastic wrap and tissue. The paste may still be damp at this point due to the body sweating. Let the paste dry completely before scarping it off by using an old credit card or the back edge of a plastic knife.
Do not use water to remove stubborn pieces- use oil or lotion (not the kind that exfoliates).
If you wash the paste off, the henna stain will be light and fade quickly.
Try not to get your design wet for the first 24 hours. Use something like olive oil or petroleum jelly as a water block when taking a shower/bath.
Do not swim or use a spa (or any heavily chlorinated water) at least for the first 48 hours as it will leach out the henna stain.
Use moisturizing lotions daily (non-exfoliating) to help retain your design as long as possible.
Warnings
If henna is applied over broken skin, a cut, or a scratch, henna will stain the skin layer that lies beneath- forever! If there is a cut, no matter how small, Julia will alter the henna pattern to go around the injury, or you can wait until it is fully healed.
Glucose-6-phosphate dehydrogenase (G6PD) deficiency is a hereditary condition in which red blood cells break down (hemolytic anemia) in response to a number of causes, and one of these causes is exposure to henna. If you have this condition- do not get henna!
If you have any other questions, concerns, or wish to discuss a custom design, Julia will be happy to consult with you.
Don't risk it-NEVER get
"Black Henna"
----
Are you an LMT or bodyworker and wish to add Bodyart Therapy to your healing practice?
Check out my CEU schedule
http://serenity-massage-and-energy-work.massagetherapy.com/continuing-education-classes