What Is BodyArt Therapy?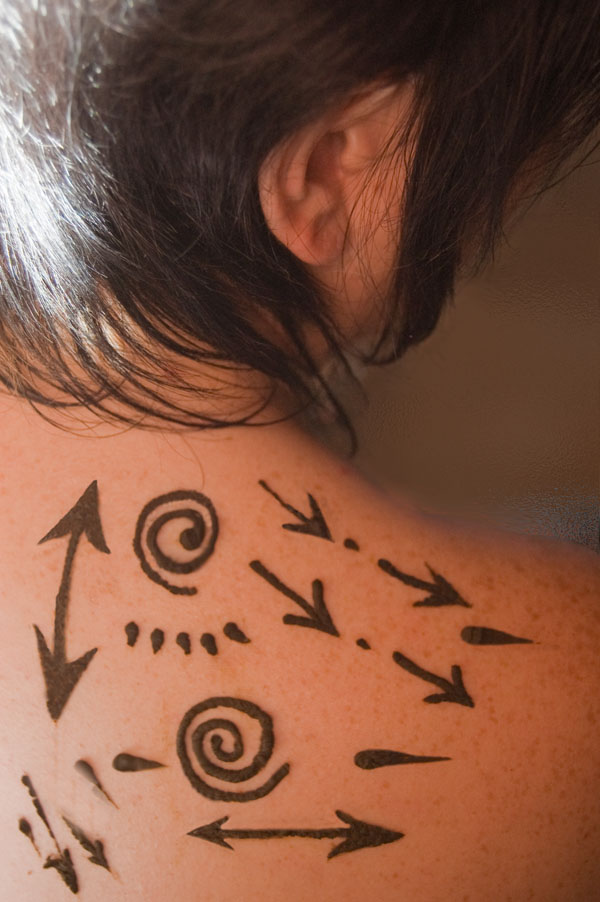 "Bodyart Therapy is the use of Bodyart, with the goal of causing a positive change physically, emotionally, mentally or spiritually through the application of art on the body in accordance with bodywork philosophy, knowledge, assessment, and skill." – Rev. Julia Lawrence LMT Bodyart Therapy 1st ed.
How Is Bodyart Therapy Performed?
There are a couple of different ways bodyart therapy is applied. If the bodyart therapy is to help address a physical issue, then we can define your goals through conversation first and then your body is assessed through massage.
Afterwards, design and site placement is determined by discussing what we discovered during treatment, and choosing a pattern. Once a design is settled upon, the area to receive the bodyart is cleaned with rubbing alcohol, the bodyart medium is chosen and then the design is applied.
If the bodyart therapy is to help with a mental, emotional or spiritual issue, then we can discuss your goals and look at patterns, settle on a design, and the area to receive the bodyart is cleaned with rubbing alcohol, the bodyart medium is chosen and then the design is applied. Massage is not necessarily applied in this circumstance.
This certainly does NOT mean that if your issue is emotional, spiritual, or mental that you CAN"T have a massage, in fact, massage would help in those areas too. However, If you have a physical issue then massage is a necessary part of the bodyart therapy.
How Are Designs Picked Out?
I designed patterns expressly created for BodyArt Therpay and bodywork using my knowledge as an LMT and as a henna artist. In this example, the leg had just had a cast removed. The tissues were hard, unyielding and angry. There were restrictions in many different directions.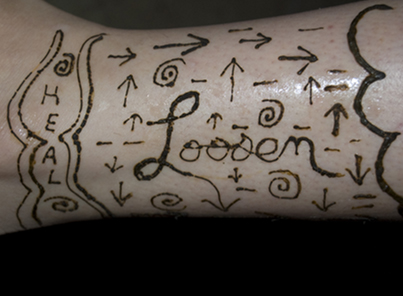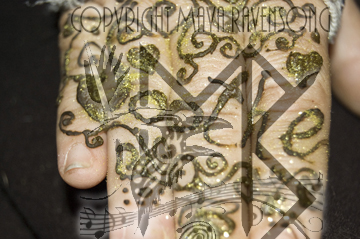 In the example above, the client wanted the energy of 'soothe' to influence the TCM meridian lines that run through the arm- right where we put the design.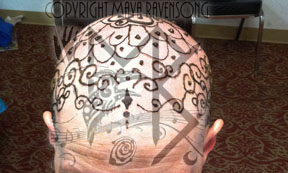 This last example is of bodyart therapy placed in the head to help the client feel confident again. She had lost her hair and had been feeling "ugly" and hiding under a thick scarf. After the BodyArt Therapy was applied, she said she felt "beautiful again".
These are just some examples of how patterns are used. I have been a henna artist for almost 20 years and an instructor for 10. We can create whatever you need together.
I also have hundreds of patterns to choose from. You may select a pre-designed pattern, put elements of several pre-designed patterns together or have a custom design worked up to your specifications (there are extra fees/appointment times involved with custom work).
What Do You Mean By Bodyart Medium?
Bodyart medium is a term used to refer to what type of "thing" is used to put the bodyart on the body i.e. paints, gilding paste, henna etc.
Henna is one my bodyart medium, but it is not the only one I work in.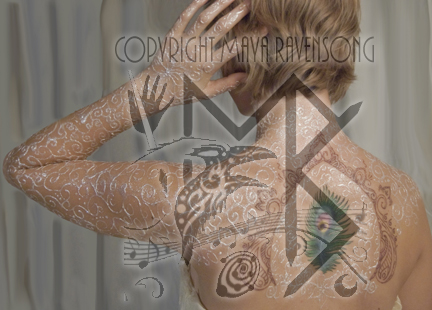 This example above is called body gilding. A medical grade adhesive is used along with cosmetic powders to form this beautiful medium. It lasts anywhere from a couple days to a week or longer depdning on how well you take care of it.
I do not work in anything permanent like tattoos. The mediums I work in are all cosmetic grade substances and are safe to apply to the body. You will fill out a health questionnaire and we will go over it together to determine the best bodyart medium for you.
How Much Does Bodyart Therapy Cost?
This depends on several factors. If you chose a pre-designed pattern without bodywork then the price is simply the price of the pattern.
Patterns are sorted and priced by size.
Small to med design: $10.00-30.00
Med to large design: $30.00-60.00
Extra large design: $60.00 -$150.00
If you chose bodywork and BodyArt therapy, then the cost is the price of the massage plus the cost of the design- by size.
What About Custom Designs?
Custom designs take TWO appointments, with or without bodywork.
There is an extra fee for the design work, payable on your first visit. Sm=$5.00, Med=$10, Extra Large = $15
With bodywork, the bodywork is preformed (with associated fees) and afterwards, we discuss the findings. I will take notes on your goals and any elements of pre-design patterns and/or words you like.
By the next appointment, I will have your design drawn up and apply the pattern. You can certainly set the appointment time long enough to have another session of bodywork (with associated fees) done before the bodyart application.
Without bodywork, we discuss your goals, look at patterns and pick out ideas and elements that you like. By the next appointment, I will have your design drawn up and apply the pattern.