Julia Lawrence took her first class in aromatherapy 1991. She was a part of the alternative health industry for 15 years using art, energy work (including chakra balancing) crystals and aromatherapy to help people heal themselves prior to transitioning to the massage side of things in 2009.
She has been a full-time Massage Therapist for 6 years, and graduated with her Associates Degree in Applied Science: Massage. This last step in her journey allowed her to train in many different modalities beyond what is typically required by continuing education.
At this point in time Julia is trained in Swedish, Myofascial Release, Trigger Point, Advanced Pregnancy Massage, Premier Stone Massage (hot and cold), Reiki, Aromatherapy, Gua Sha, Cupping, Fascial Alignment, Clinical Massage, Advanced Sports Massage, Oncology Massage, Tuina Massage, and Body Art Therapy. She also employs Crystals, Sound Therapy with singing bowls, Color Therapy, Guided Imagery, Intuitive Work and Energy Work in her practice.
Starting with a consultation, Julia creates a unique and personal synthesis for every individual session that best helps each client achieve their goals and address their priorities whether is it pain management, stress reduction, athletic performance or relaxation. Using a combination of all the techniques that would be beneficial, her serene approach offers harmony, balance, and ease to your busy life enhancing overall health and well-being.
Book your appointment today and start your path to a better feeling you.
Julia teaches continuing education to other LMT's and bodyworkers at various workshops and events.

There is also a textbook I have written to accompany the BodyArt Therapy class. You may purchase it without attending the class.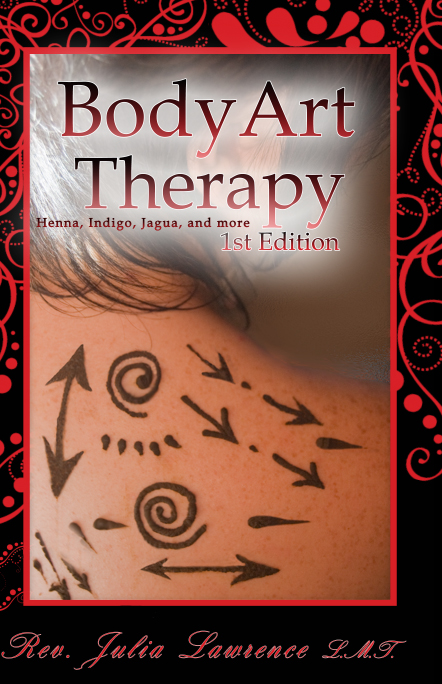 https://www.amazon.com/BodyArt-Therapy-Rev-Julia-Lawrence/dp/1304521397/ref=sr_1_1?ie=UTF8&qid=1487965237&sr=8-1&keywords=bodyart+therapy